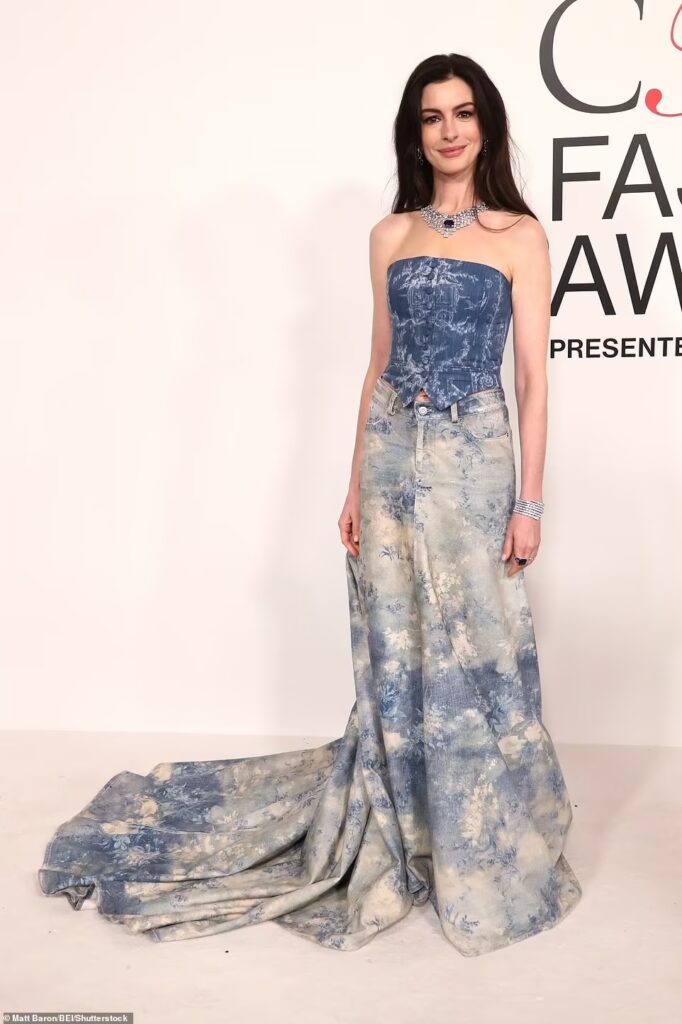 Anne Hathaway's Unique Denim Bustier and Tie-Dye Skirt Ensemble by Ralph Lauren
Anne Hathaway's Enchanting Red RODARTE Floral Lace Maxi Dress

Anne Hathaway's fashion journey continued as she made a noteworthy outfit change. She transitioned from her denim bustier and tie-dye skirt ensemble to a stunning red gown adorned with intricate floral accents. This gown, showcasing her impeccable style, radiated elegance and charm. Anne Hathaway's ability to effortlessly switch between contrasting fashion statements is a testament to her versatility and flair in the world of fashion. Her choice of this red gown with floral detailing was nothing short of captivating, further solidifying her status as a style icon. Her fashion evolution continued with a captivating choice: a RODARTE Floral Lace Maxi Dress in a striking shade of red. The intricate lace and the maxi length of the dress exuded a sense of timeless elegance. Hathaway's fashion sense knows no bounds as she effortlessly transitioned from her previous outfit to this enchanting RODARTE creation, showcasing her ability to master diverse styles. The red floral lace dress added a touch of romance and sophistication to her overall look, reaffirming her position as a style icon.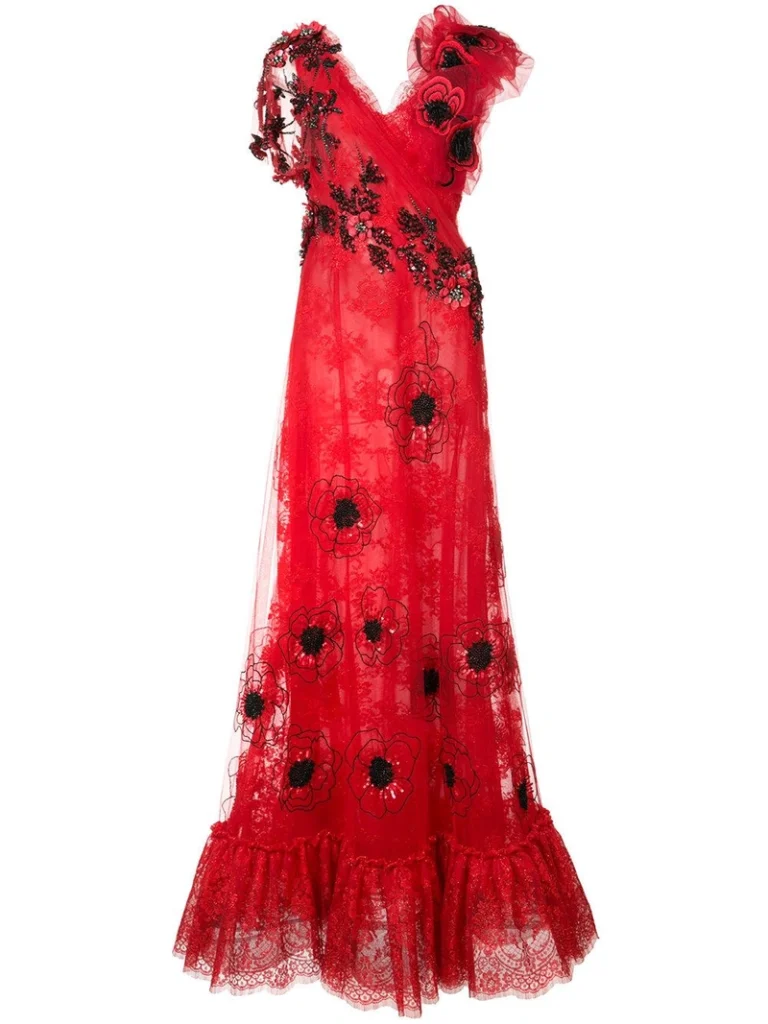 RODARTE
Floral Lace Maxi Dress In Red
Out of Stock
Get ready for the grand fashion event of the year as celebrities strut their stuff at the 2023 CFDA Fashion Awards. In this blog post, we will be your front-row seat to the glitz and glamour. Stay updated as we reveal what your favorite stars are wearing, providing you with in-depth information on their stunning outfits and style choices.
We'll be covering every aspect of their fashion, from the designers they choose to the accessories that complete their look. It's your chance to get the inside scoop on the trends that are making waves in the fashion industry.
This year's CFDA Fashion Awards ceremony was hosted by Anne Hathaway at the American Museum of Natural History. Maria Cornejo was honored with the Lifetime Achievement Award, and the soiree was sponsored by Amazon Fashion. Gwyneth Paltrow, founder and CEO of Goop, took home the night's award for innovation. The Board of Directors Tribute went to Vera Wang in recognition of her contribution to fashion in the bridal category.
And don't forget to explore our holiday special curated selection on Starlists. Yoit is your ultimate fashion search service, making it easy for you to find the perfect pieces to emulate your favorite celebrity styles. Let's dive into the world of high fashion at the 2023 CFDA Fashion Awards.
Feel free to let me know if you have any other specific details or information you'd like to include in the blog post, and I'll be happy to assist you further.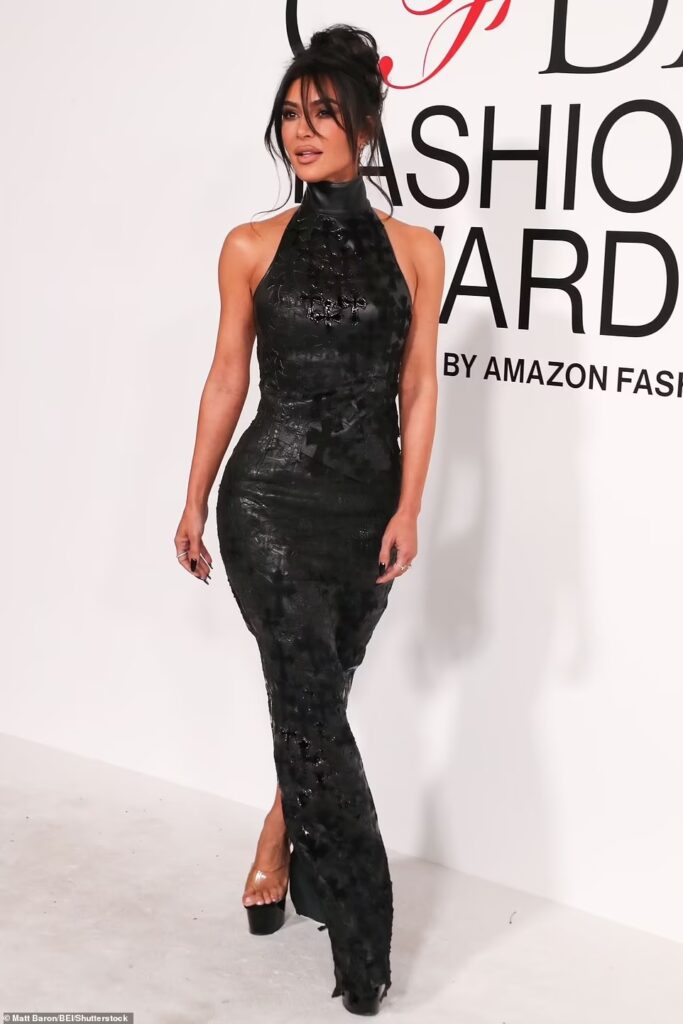 Kim Kardashian's Gothic Glamour at CFDA Fashion Awards 2023 on Nov 6, 2023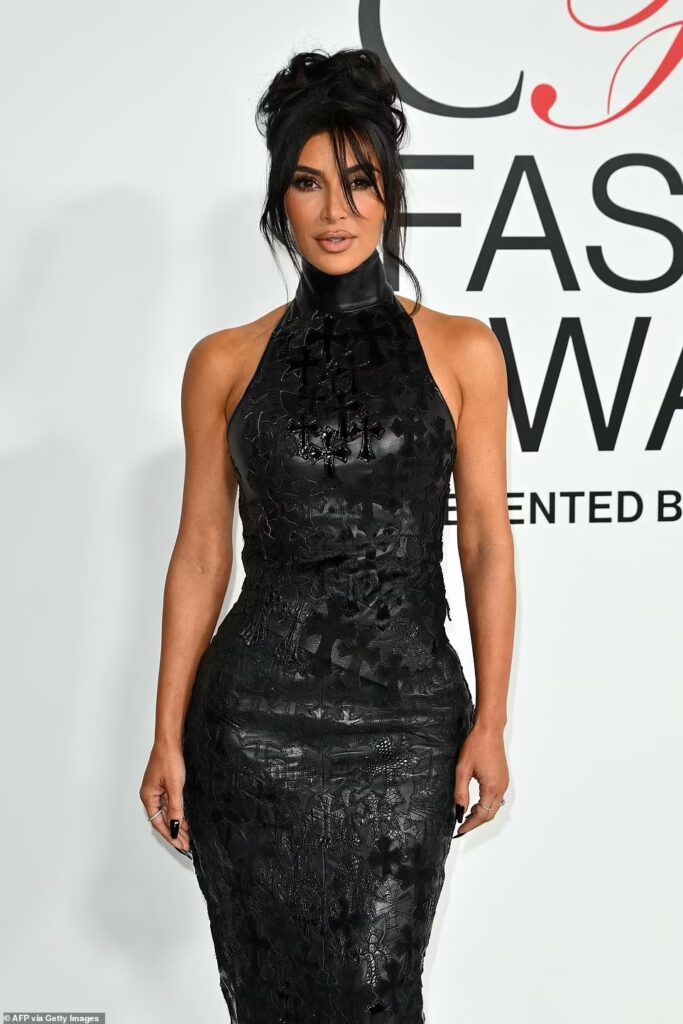 Kim Kardashian stole the spotlight at the star-studded CFDA Fashion Awards in New York, donning a skintight black gothic Chrome Hearts gown. Her striking look left everyone in awe as she embodied pure elegance and style. Kim's presence was a defining moment at the prestigious event, showcasing her unparalleled influence in the fashion world.


Naomi Watts Radiates Elegance in Plunging Black Carolina Herrera Gown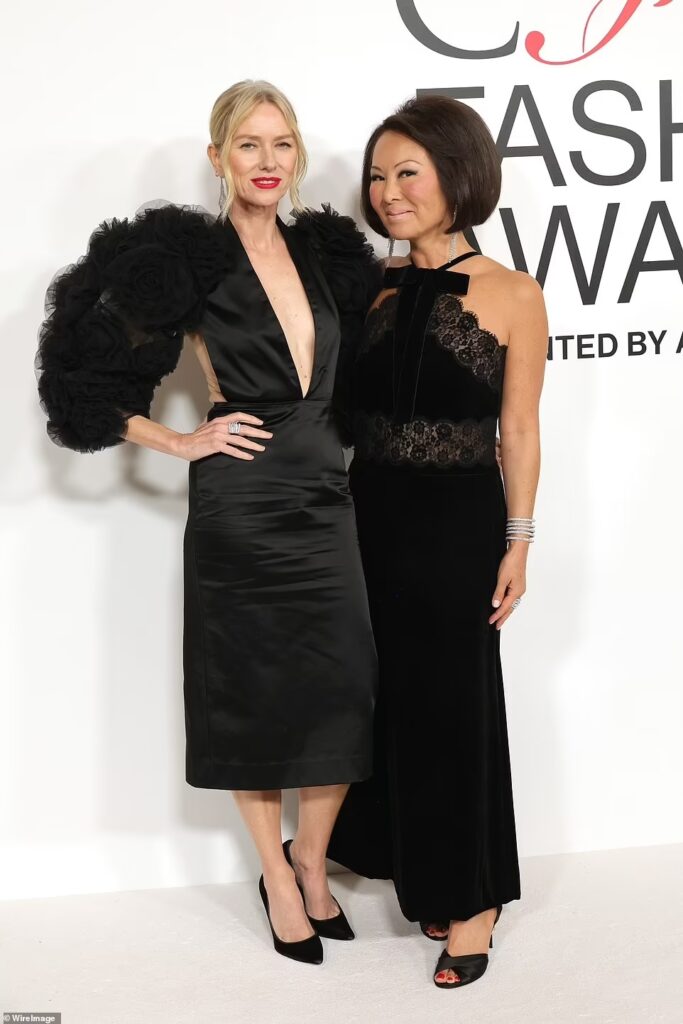 She posed with designer Lina Cho
At the age of 55, Naomi Watts continues to captivate with her timeless style. During a recent event, the actress donned a striking black Carolina Herrera gown that left onlookers in awe. The gown featured a daring plunging neckline and was adorned with dramatic black tulle sleeves that billowed out, creating a sense of ethereal elegance. Watts' ability to command attention with her fashion choices was once again on full display, as she effortlessly showcased the perfect blend of grace and boldness in this Carolina Herrera creation. Her fashion statement proves that style knows no age and that confidence and glamour are truly ageless.
Demi Moore Shines in Silver Sequin Carolina Herrera Dress. She was joined by a designer Wes Gordon


Age is just a number, and Demi Moore, at the age of 60, proved this point with her radiant style. Moore dazzled in a sleeveless silver sequin Carolina Herrera dress that caught everyone's attention. She paired the shimmering dress with a chic black clutch and strappy heels, creating a look that exuded glamour and sophistication. Moore's fashion choices continue to inspire, reminding us all that true style is ageless. Her elegance in the silver sequin Carolina Herrera dress was a shining example of how to embrace fashion at any stage of life.
Emily Ratajkowski's Leggy Elegance at 2023 CFDA Fashion Awards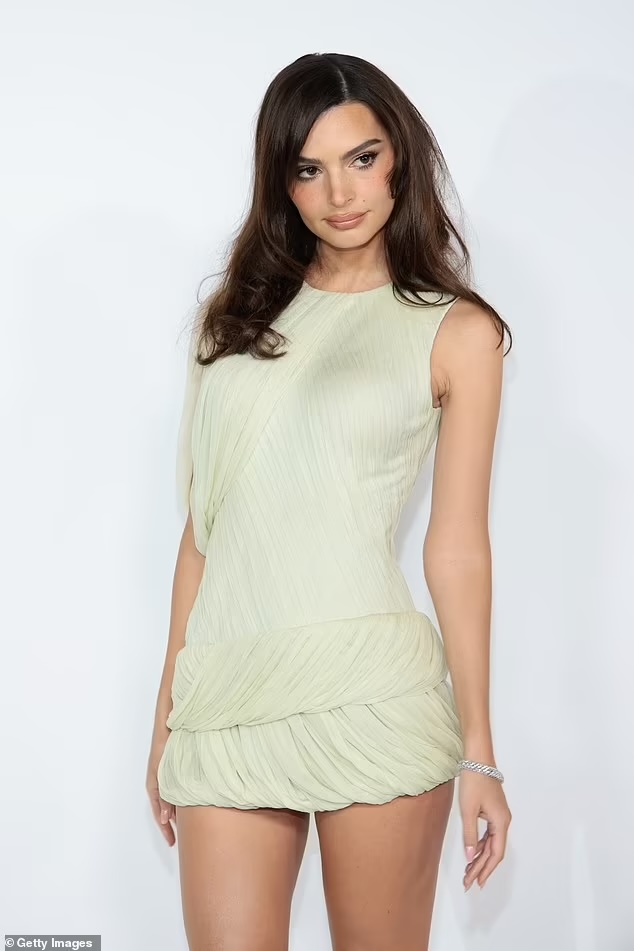 Emily Ratajkowski looked absolutely radiant at the 2023 CFDA Fashion Awards in New York City, and her choice of attire left a lasting impression. She graced the event in a captivating Tory Burch SS24 Dress, showcasing her impeccable fashion sense. With her timeless elegance and chic style, Emily's presence added an extra touch of glamour to the already prestigious occasion. Her choice of dress highlighted her ability to effortlessly merge sophistication and fashion, making her an absolute showstopper at the awards.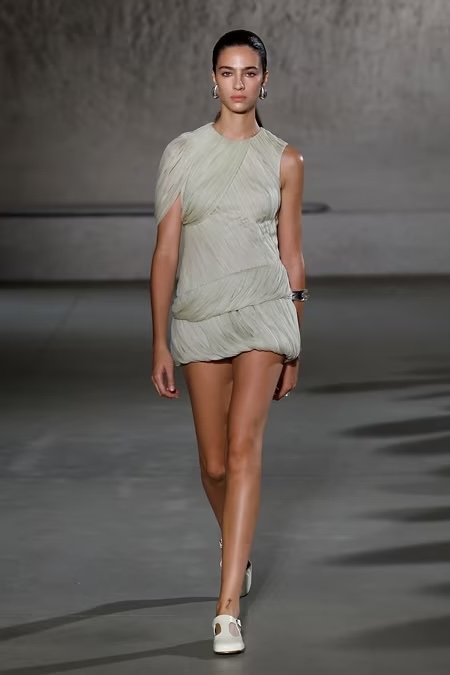 Tory Burch Ss24 Dress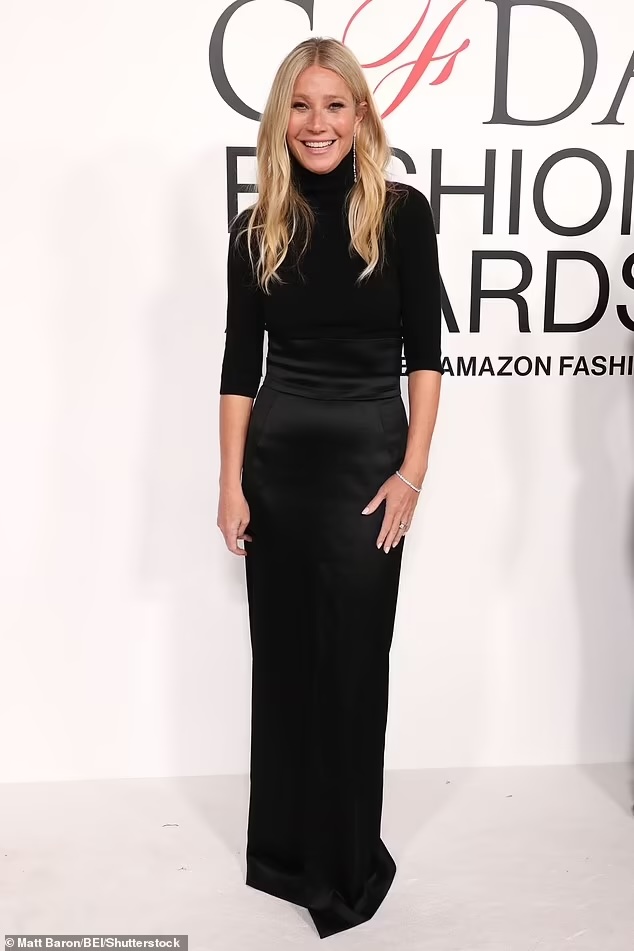 Gwyneth Paltrow's Award-Winning Style: CFDA Fashion Award for Innovation
Gwyneth Paltrow turned heads as she accepted the prestigious CFDA Fashion Award for Innovation in New York City. The actress and fashion entrepreneur showcased her exceptional style by wearing a snug turtleneck elegantly tucked into a high-waisted satin maxi skirt. This stunning ensemble was none other than a creation from her very own fashion range, G. Label. Gwyneth's well-deserved award was a testament to her innovative contributions to the fashion industry, solidifying her status as a true fashion icon.
Vanessa Hudgens Radiates Timeless Glamour at 2023 CFDA Fashion Awards
Vanessa Hudgens, 34, showcased timeless glamour at the 2023 CFDA Fashion Awards held at the American Museum of Natural History. She donned a custom Vera Wang gown, a strapless black creation with a plunging neckline that exuded sophistication. Vanessa radiated confidence as she strolled down the red carpet, even blowing kisses at photographers. Her choice of open-toed black heels complemented her look, showcasing her scarlet pedicure. Vanessa's timeless beauty and style made a memorable impression at the prestigious fashion event.
Nicky Hilton Stuns in Glamorous Red Ball Gown at 2023 CFDA Fashion Awards

Nicky Hilton looked absolutely ravishing at the 2023 CFDA Fashion Awards as she graced the event with her presence. The style icon opted for a striking red ball gown that oozed glamour and sophistication from Alice and Olivia. What made her look even more fabulous was the matching red hair bow, which added a touch of playfulness to her elegant ensemble. Nicky Hilton, known for her impeccable fashion sense, effortlessly joined the ranks of style icons at the prestigious event, making a memorable statement at 2023 CFDA Fashion Awards.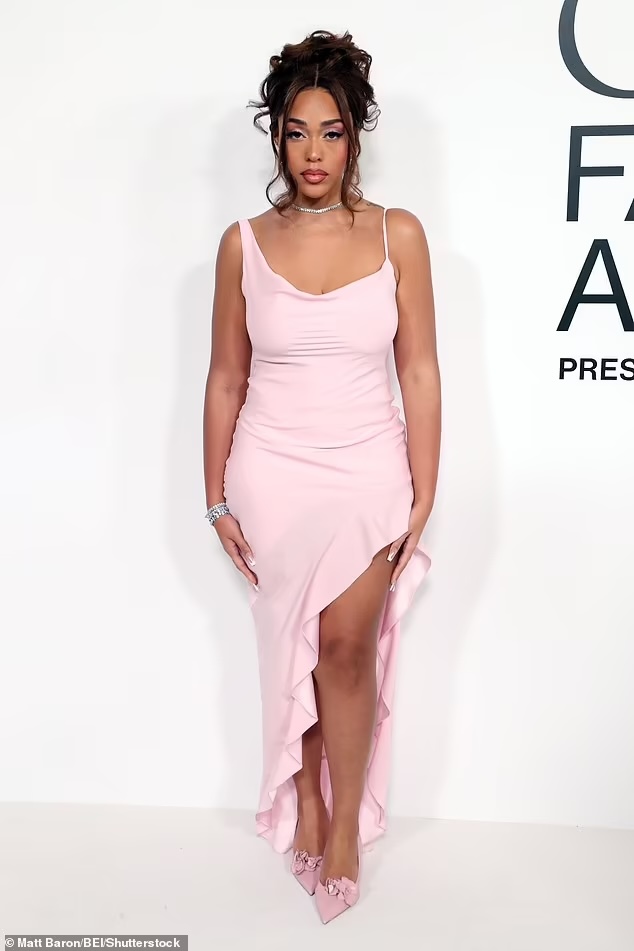 Jordyn Woods Stuns in Ruffled Pink Dress at CFDA Fashion Awards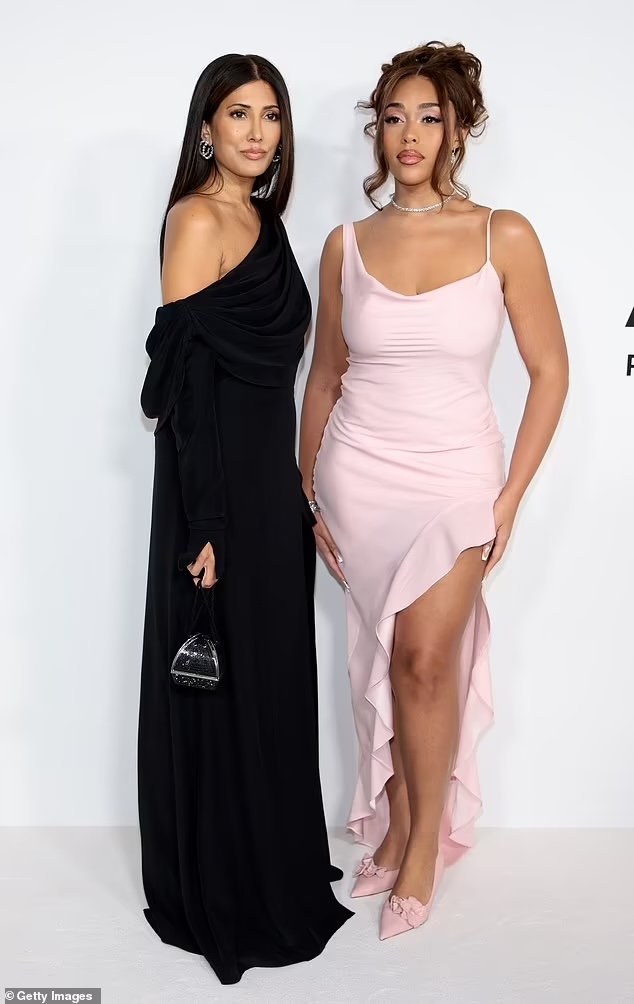 Woods with designer Azeeza Khan, who created her pink dress 
Jordyn Woods looked effortlessly chic in a ruffled pink dress as she graced the CFDA Fashion Awards in New York City. The socialite opted for an ultra-feminine look, perfectly capturing the essence of the prestigious event. She posed for photos alongside the talented designer of her dress, Azeeza Khan, who rocked a stylish black gown. Jordyn's choice of attire was a testament to her impeccable fashion sense and made her stand out at 2023 CFDA Fashion Awards.
Ashley Graham Dazzles in Patterned Black Gown at CFDA Fashion Awards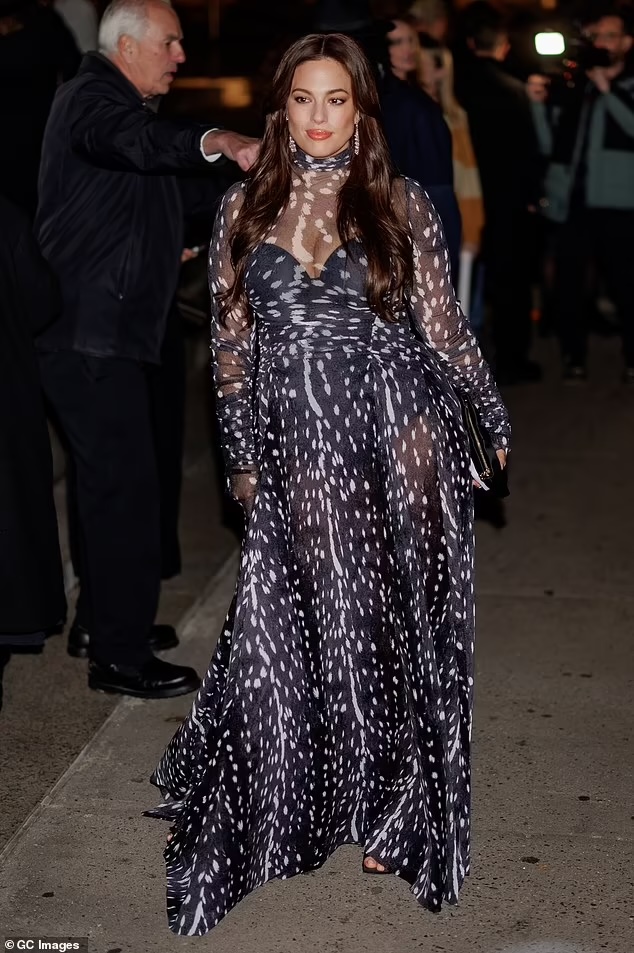 Ashley Graham made a striking entrance at the CFDA Fashion Awards in New York, wearing a captivating patterned black gown that turned heads on the red carpet. The supermodel exuded confidence and style in her choice of attire, showcasing her unique fashion sense. Ashley's presence at the prestigious event was a true fashion statement, leaving a lasting impression among fellow fashion enthusiasts.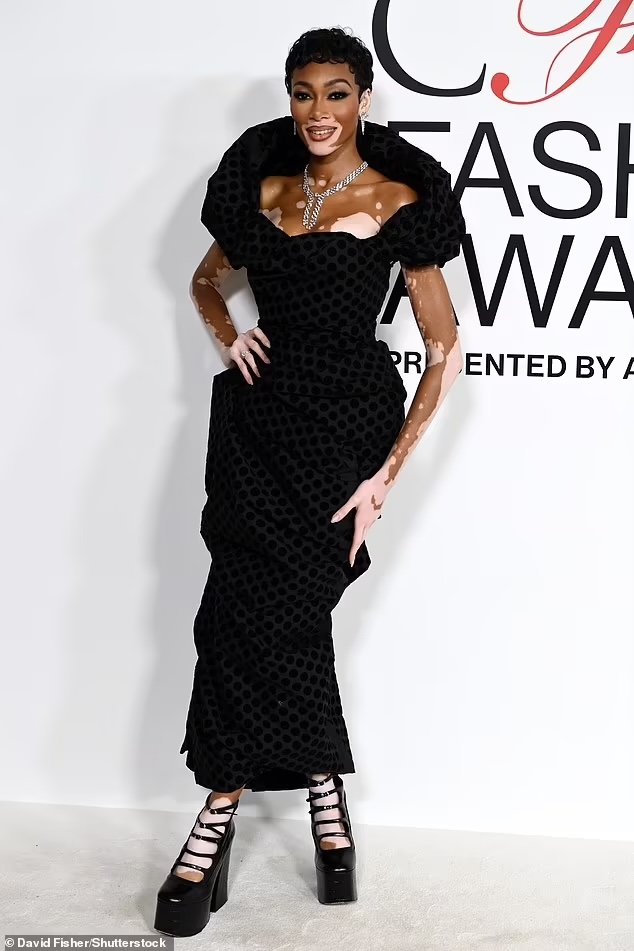 Winnie Harlow's Bold Fashion Statement at CFDA Fashion Awards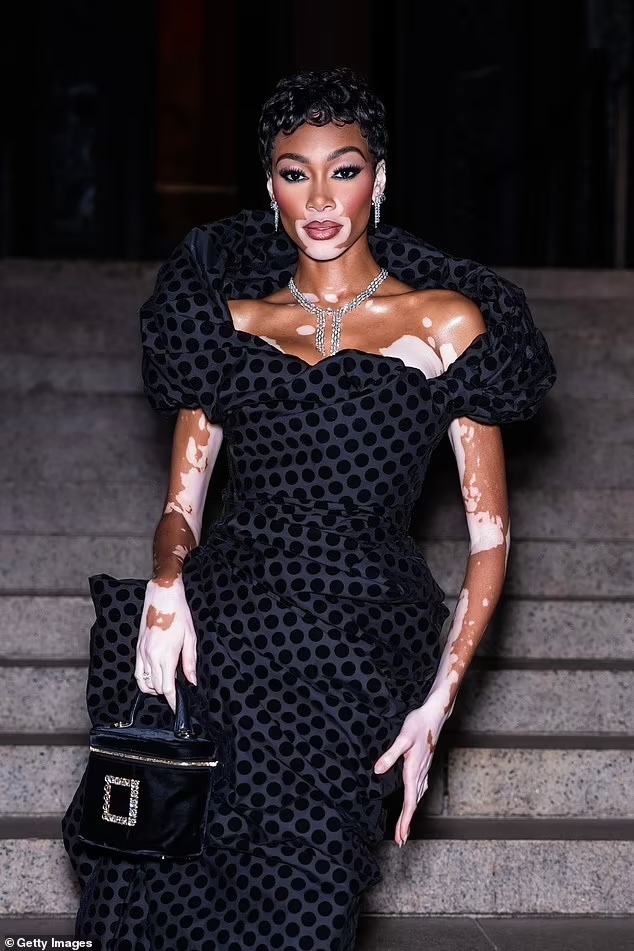 Winnie Harlow turned heads with her stunning fashion choice at the CFDA Fashion Awards, wearing a black dress with a dramatic collar that perfectly showcased her unique style. The model accessorized her look with a dazzling diamond necklace and matching earrings, adding an extra touch of elegance to her ensemble. To complete her fashion-forward outfit, Winnie carried a Roger Vivier purse in black with exquisite stone details, making her a standout presence on the red carpet.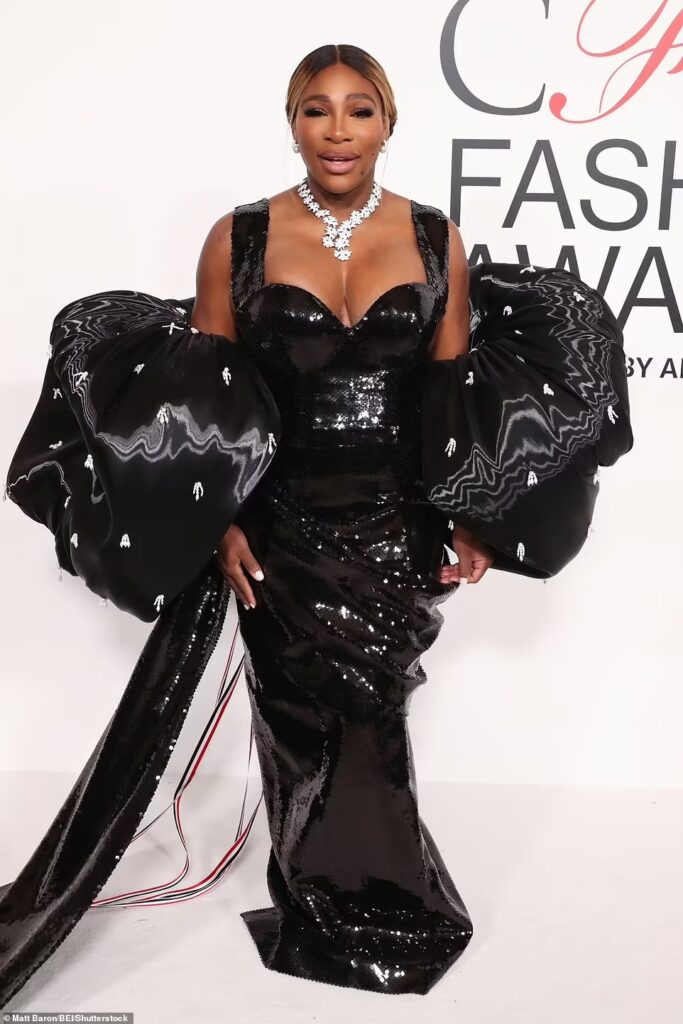 Serena Williams Radiates Elegance at CFDA Fashion Awards
Serena Williams, the tennis superstar, showcased timeless beauty and elegance at the CFDA Fashion Awards, held at the American Museum of Natural History in New York City. Just three months after welcoming her second child, Serena accepted the prestigious Fashion Icon Award, previously bestowed upon iconic figures like Naomi Campbell, Zendaya, and Beyoncé.
On the red carpet, the retired athlete, aged 42, captivated all with her presence in a black sequined gown, masterfully designed by CFDA Chairman Thom Browne. The gown featured dramatic sleeves and a flowing train, emphasizing Serena's remarkable style and confidence. Her appearance at the star-studded event was nothing short of iconic, solidifying her status as a fashion icon in her own right.
Amelia Hamlin's Bold and Sultry Look at 2023 CFDA Fashion Awards
Amelia Gray Hamlin made a stunning and jaw-dropping appearance at the 2023 CFDA Fashion Awards in New York City. The star chose a very racy sheer blue dress, leaving little to the imagination. She paired the daring outfit with high-waisted blue bottoms and open-toed white pumps that peeked out from under the hem.
Amelia completed her bold look with chunky silver bracelets and pulled her dark locks into a sleek ponytail. Her makeup featured mascara, black eyeliner, warm blush, and a nude matte lip, creating a sultry finish. The star confidently struck poses as she arrived at the glamorous event, hosted by Sarah Jessica Parker, making a memorable statement at the 2023 CFDA Fashion Awards.