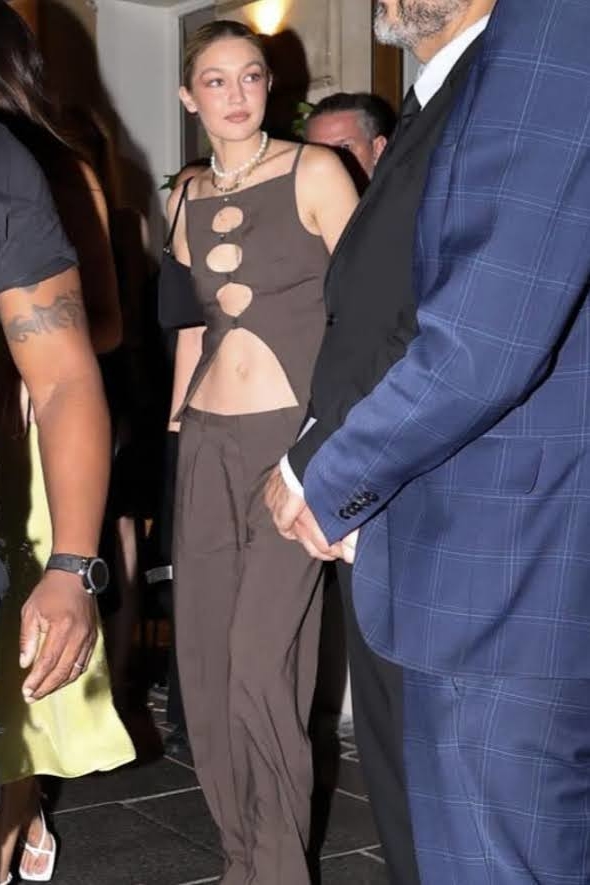 Gigi Hadid Paris June 26, 2023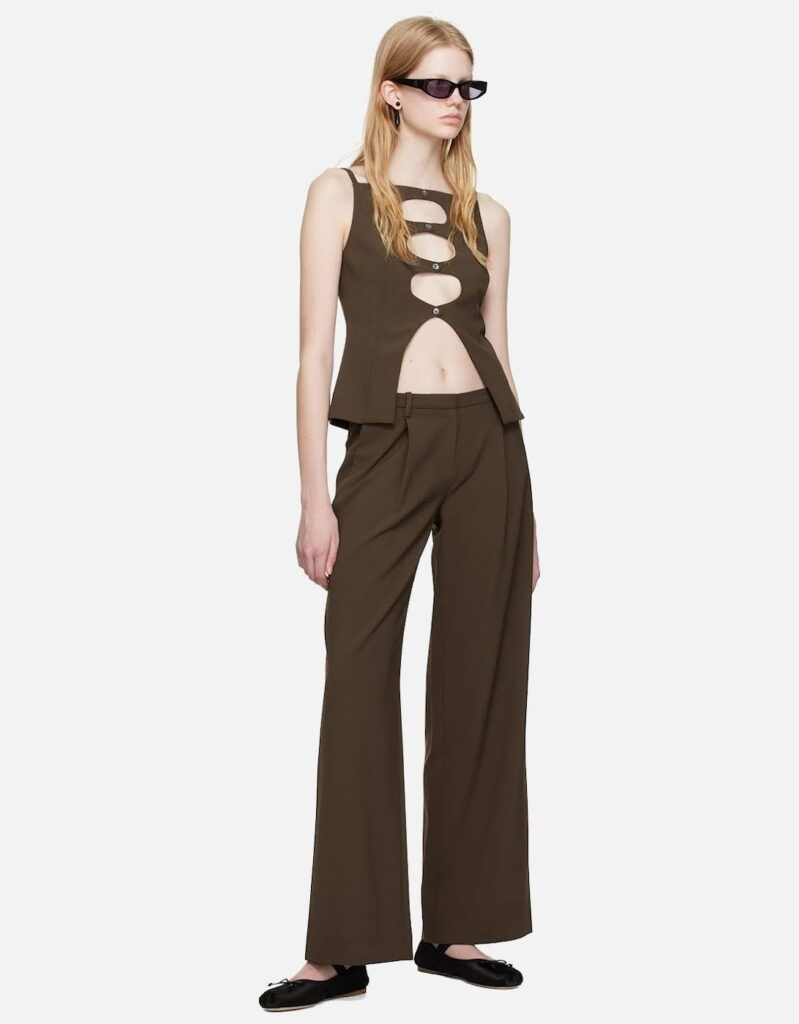 Sandy Liang Brown Saguaro
Gigi Hadid in New York
Adidas Velosamba Cycling Wonder White Gum with Black Shoelace

Jacquie Aiche
Pave Pearl + Onyx Alien Heart Eye Inlay Necklace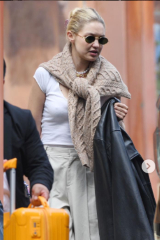 Gigi Hadid New York City June 25, 2023
Gigi Hadid's Style Secrets: Embracing Effortless Chic in the Fashion Spotlight
When it comes to fashion, Gigi Hadid is a true style icon. With her striking looks and impeccable taste, she consistently captivates the fashion world with her unique sense of style. From glamorous red carpet appearances to casual streetwear, Gigi effortlessly combines comfort, sophistication, and the latest trends.
Gigi's fashion choices are a perfect blend of high-end designer pieces and accessible streetwear brands. She embraces a diverse range of styles, from edgy and urban to elegant and feminine. Whether she's rocking a tailored pantsuit, a flowy maxi dress, or a simple t-shirt and jeans combo, Gigi always manages to exude an air of confidence and individuality.
One of the reasons Gigi's fashion is so influential is her ability to effortlessly incorporate current trends into her looks. From statement accessories and bold prints to unconventional silhouettes, she fearlessly experiments with fashion and sets trends along the way.
At Yoit, we celebrate Gigi Hadid's fashion choices and provide a platform to help you recreate her effortlessly chic looks. Our fashion search engine offers a wide selection of affordable alternatives to Gigi's designer pieces, making it easy for you to stay on-trend without breaking the bank.
Explore Gigi Hadid's latest fashion moments and let her inspire your own personal style. Whether you're seeking inspiration for a glamorous night out or everyday streetwear, Yoit has you covered. With our descriptive fashion search with visual search, finding the perfect pieces to channel Gigi's style has never been easier.
Join us as we dive into the world of Gigi Hadid's fashion and discover how you can infuse her sense of effortless chic into your own wardrobe. Let her serve as your style muse and unleash your inner fashionista. With Yoit as your fashion companion, you can confidently navigate the ever-changing world of fashion and create looks that are both on-trend and uniquely you.
Get ready to elevate your style game and embrace the influence of Gigi Hadid's latest fashion. Whether you're stepping onto the runway of life or simply seeking inspiration for your everyday looks, Yoit is here to help you curate a wardrobe that reflects your individuality and keeps you at the forefront of fashion.
We value your feedback and continuously strive to enhance your fashion discovery experience. Join us today and redefine your style journey.